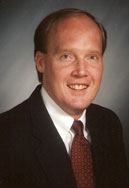 paul carlson | director, project management
Paul has been a market research professional for more than 20 years and has expertise in all facets of the research process, from questionnaire design and respondent interviewing (telephone, online, in-person and focus group) to data analysis and report presentation (oral and written). He holds a BSB and an MBA, with a Marketing Management concentration, from the University of Minnesota.
As Director, Project Management, Paul is responsible for all aspects of clients' research projects, including study and survey design, fieldwork, data analysis, reporting and consulting on the implementation of research findings. He has been project manager for a wide array of domestic and international studies including but not limited to customer loyalty, positioning, product concept / new product development, consumer behavior, competitive intelligence, and web site effectiveness. His specialty is large-scale, complex and operationally demanding customer satisfaction and loyalty measurement research.