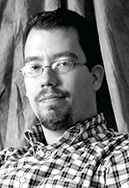 andrew jones | senior moderator
Andy has worked in the gaming industry for nearly 25 years. He has served as a strategic consultant for more than 20 gaming companies throughout the United States as well as abroad—developing and implementing marketing plans that consistently help increase revenues and profitability.
He is a highly-sought moderator who was trained at the renowned Burke Institute and has conducted gaming specific research for several state lotteries, gaming manufacturers and operators on a variety of different projects including:

• Customer Satisfaction
• Ideation
• Game Design
• New Lottery Game Selection
• Lottery Point of Sale Research
• Ethnographic (Intercept Studies)

Andy has conducted gaming research in more than 25 jurisdictions including initial game selection and messaging research for the launch of the Wyoming Lottery. In the past he has partnered with the Oregon Lottery to moderate a panel discussion on lottery research at the annual NASPL conference.
 
In addition to research, Andy assists gaming operators with statistical analysis to help with their database segmentation for marketing plans. He began his career at Station Casinos, implementing CDS' Oasis player tracking system at several properties as the Database Marketing Administrator, and subsequently served as the Corporate Database Marketing Manager for Empress Casinos.
Andy graduated with a Bachelor of Journalism from the University of Missouri-Columbia.